Parking
ENGLISH
There's lots of public parking within a few minutes' walk of the apartment.
The nearest street parking is on Boulevard Henri Arlet which is only a 2-3 minutes on foot along Rue Fénelon. Below are the parking rates/rules for these bays depending on the time of year:
01/11 - 28/02: FREE 24/7
01/03 - 14/06 and 16/09 - 31/10: Free parking on Sundays and Public Holidays only
At all other times the FIRST HOUR PARKING IS FREE BUT YOU MUST ENTER YOUR CAR REGISTRATION NUMBER AT THE PARKING MACHINE AND DISPLAY THE TICKET IN YOUR WINDSCREEN
See the attached photo for car parking charges applicable after the first free hour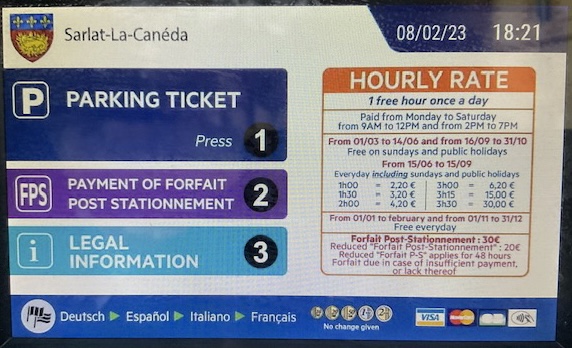 The nearest free public car park (all year) is at Place des Cordeliers which is a 6-8 minutes walk. Below is a map showing both of these in relation to the apartment.
There is lots of parking available around the town, these are just the nearest.
A downloadable version of the city map is available on the Sarlat Tourist Office website.
Click on the map on the right hand side of this page to view the location of La Liberté Studio on googlemaps.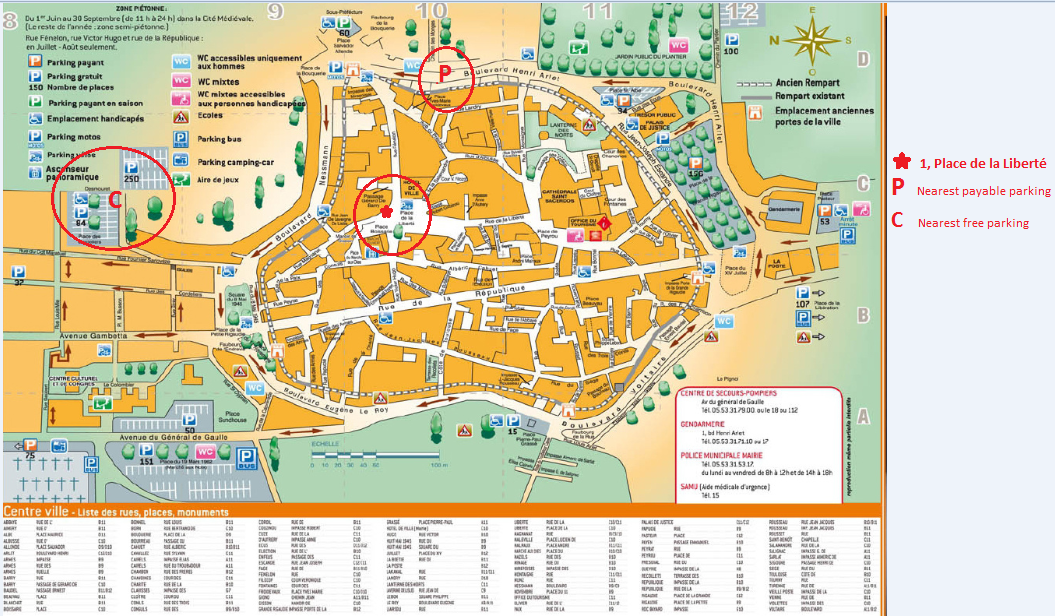 FRANCAIS
Plusieurs parkings publics se trouvent à quelques minutes de l'appartement.
Le parking le plus proche se trouve sur le boulevard Henri Arlet, à 2-3 minutes à pied le long de la rue Fénelon. Vous trouverez ci-dessous les tarifs/règles de stationnement pour ces places en fonction de la période de l'année :
01/11 - 28/02 : GRATUIT 24/7
01/03 - 14/06 et 16/09 - 31/10 : stationnement gratuit uniquement les dimanches et jours fériés.
En dehors de ces périodes, la première heure de stationnement est gratuite, mais vous devez saisir le numéro d'immatriculation de votre voiture à l'automate et afficher le ticket sur votre pare-brise.
Voir la photo ci-jointe pour les frais de stationnement applicables après la première heure gratuite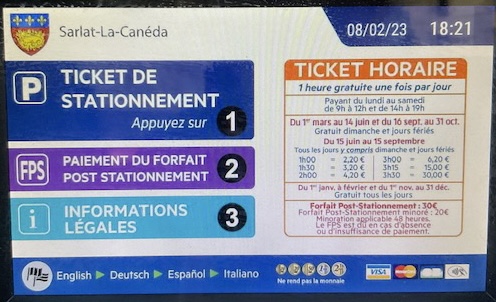 Le parking public gratuit le plus proche (toute l'année) se trouve à la Place des Cordeliers, à 6-8 minutes de marche. Vous trouverez ci-dessous un plan montrant ces deux parkings par rapport à l'appartement.
Il y a de nombreux parkings disponibles dans la ville, ces deux parkings sont les plus proches.
Une version téléchargeable du plan de la ville est disponible sur le site de l'office du tourisme de Sarlat.
Cliquez sur la carte à droite de cette page pour visualiser l'emplacement du Studio La Liberté sur googlemaps.